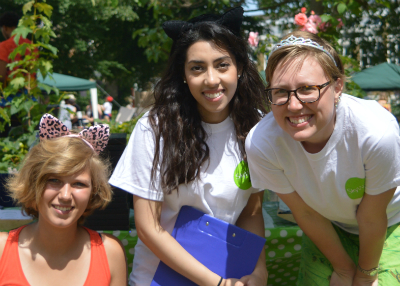 Noreen joined SkyWay initially as an intern in February 2013. She then became a part time administration assistant and is now the Finance Coordinator.
1. How did you become involved in SkyWay?
I initially came to SkyWay as a volunteer to gain experience at the beginning of 2013 and was lucky enough to be offered a position here. I needed little purr-suasion.
2. Tell us an interesting fact about you
I have an unhealthy obsession with cats! Can't get enough of them.
3. Which young person/people have inspired you?
Eli, she was always enthusiastic and willing to try new things and had a smile on her face throughout her year volunteering at SkyWay.
4. What is your earliest memory?
Having a cat nap under a table whilst listening to family entertaining guests.
5. What would you tell your younger self?

Say yes to any opportunity you are given and Pro-cat-stination will be your downfall
6. What's the best thing about Hackney?

The diversity and culture, there is always something exciting happening around the corner.
7.What meal would you share with a young person?

I'd share a fried hilsa fish with rice.
8. How would you like to be remembered?

Someone who always tried their best to help others.
9. What have you learnt from young people?
Life isn't purrfect but enjoy every minute!
Thanks Noreen!