---
Based in Hoxton, Humdingers have an amazing team of chefs, producing perfect canapes, raw food salads, home style hot meals, banquets and delightful desserts. Not just that, but with initiatives like 'Feed the NHS', and their weekly soup kitchen, they're no strangers to putting the community first – something that resonates with our core ethos here at SkyWay.
An end with a fresh start
It's been over a year of running our community food packages programme, and it's been one heck of a ride. Over that period of time, we have gone from providing for 20 people a week, to over 600 people monthly and over 5,000 people in total with necessary food and essentials. We would like to take this opportunity to say a big thank you to all of our staff and volunteers who were our food collectors, delivery drivers and bag packers throughout this period.
Turning the clock back a few weeks we were struggling to find a way to keep our food packages going. With funding running out and the Blue Hut Youth and Community Hub needing to be reopened, we were seeing no other option but to end our food packages programme. We didn't see another way out. Thankfully, this is where Humdingers stepped in. Rob (who heads Humdingers) reached out to us as he wanted to keep things going and offered to take over the handling and distribution of things in partnership with us. Once everything was agreed and planned out, SkyWay and Humdingers were both ready to move forward with continuing to provide for the community.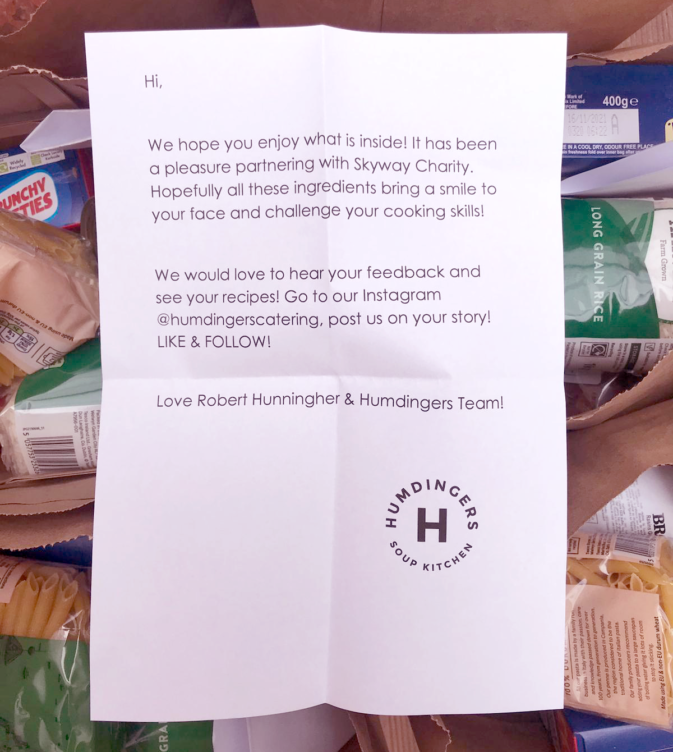 Humdingers Partnership Letter
A Chance encounter
Both local organisations with the aim of serving the community, it was pure chance that brought Humdingers and SkyWay into contact with one another. Marlon (our Director of Operations) happened to be walking past Humdingers and saw a notice about their soup kitchen. Seeing that they were providing hot meals for local residents, he decided to step in and introduce himself. A short conversation later, a swapping of phone numbers, and first contact was made; it goes to show how much of an impact networking with your local shops and business can have.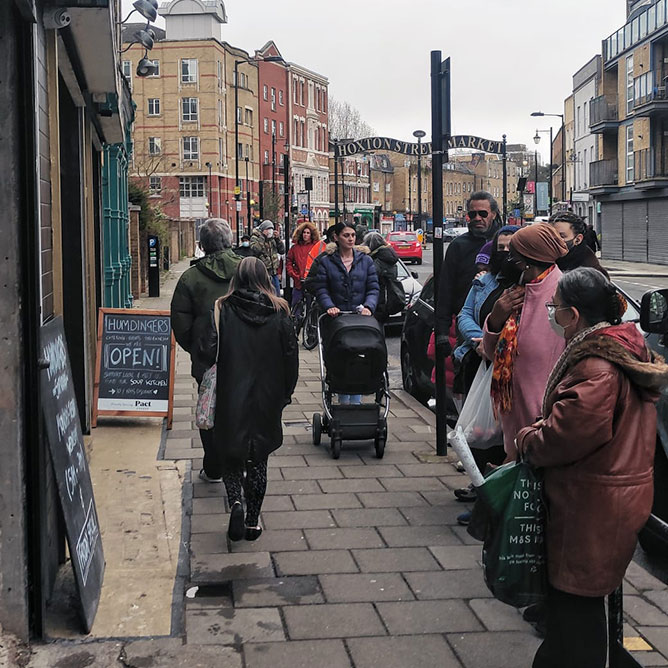 Soup Kitchen at Humdingers
What now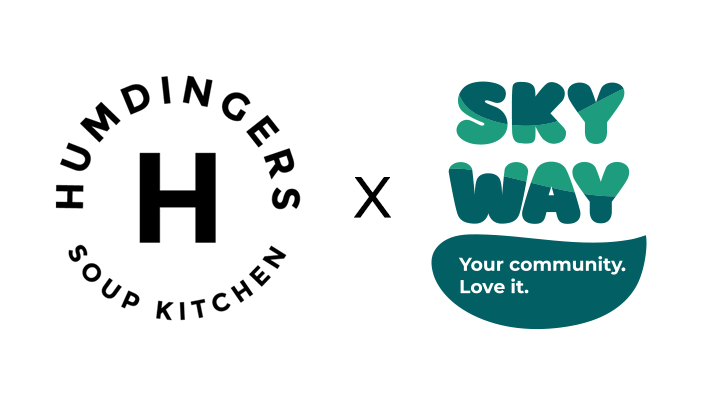 In partnership with Humdingers we will be continuing to provide for all of the community members that were previously on our list and, hopefully, adding to that list. We will no longer be handling anything at the Blue Hut and the whole programme will be run out of Humdingers which you can find at:
236 Hoxton St, Whitmore Estate, London, N1 5LX
To get in contact with Humdingers visit their website, socials or give them a call:
Phone:
020 7729 6644