---
Back in 2001/2
SkyWay Charity is about to turn 20! This occasion has made us nostalgic and got us speaking about how it all began in late 2001 and 2002. We've been talking to people past and present about their memories, how they got involved with SkyWay and how we helped them to get to where they are now. Over the next six months we'll be sharing some of these stories as we build up to our official BIG 20.
For those who can't remember or weren't even born in 2001, we'd survived the threat of the Millennium Bug; people were unsure what to do with the purpose-built entertainment venue in Greenwich; Arsenal, Manchester United and Newcastle were actually good at football; and the first Harry Potter movie was released.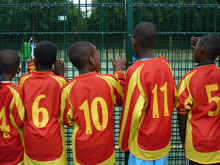 At this time, no one had a flat screen TV, the only game on a mobile phone was snake, and social media was non-existent so people would be out and about, often with little to do, and rates of crime were high – particularly among young people.  The hipsters hadn't come to Hackney yet, only three streetlights in Dalston seemed to work, and Hackney had a reputation of being dangerous and people visited because they had to rather than wanted to. James Kerr was living near Shoreditch Park with his partner at this time. In the same week they had their car broken into and they were robbed by knifepoint on their doorstep. They reported the incidents and were invited to a community policing event. The were shocked to find that there were only 4 community police covering the whole of Hackney!
From idea to event
James thought there must be something he could do to engage and support the young people in the area so they had something to do which brought them together in a positive way. He had an idea to set up a football tournament for local young people at the Britannia Leisure Centre and approached his friend Grant to help make it a reality. The first Teenage Kicks was born!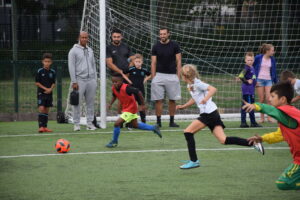 James and Grant looked for local partners who worked with young people. They met Alice who had helped to form the South Kingsland Youth Partnership (SKY Partnership) – which later became SkyWay. Alice was sceptical because most of the time ideas like this came to nothing. When she saw how well the football tournament went she realised James and Grant's involvement and commitment were genuine, so she convinced them to join the Partnership board.
The first Teenage Kicks was a success. Groups of local young people got themselves organised into 5-a-side teams, local coaches started to search for promising players for their teams, and older brothers and sisters convinced younger siblings to sharpen up their skills. Over a month, teams battled it out to become the local champions and have the bragging rights as the champions of Hackney.  From then on, it's become an annual football tournament that young people in Hackney (and beyond) have looked forward to, trained for, competed with each other and supported each other in. It has run every year since – except for two, the first due to high levels of gang activity locally and the second due to a global pandemic.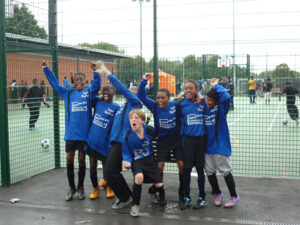 Why do it?
The ethos for Teenage Kicks has never been about wining or beating people – although the winners do get a trophy and medals. It's about:
getting people to be active;
engaging in positive competition and activity with people outside your neighbourhood;
developing organisational skills;
improving confidence and teamwork;
developing coaching and event management skills; and
aiding people to make short, medium and long-term goals.
Even the rules to Teenage Kicks were set out to make sure people worked together. If you were late your team lost a point, which in a league where the top two played the final could make all the difference.
Building a legacy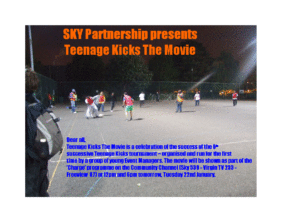 The legacy of Teenage Kicks goes beyond an annual football tournament – although it's great to see its growth and success over the years including four films (TK in the Park: P1; TK in the Park: P2; TK the Movie: P1; and TK the Movie: P2) and a few dated posters and flyers! It helped develop spin off activities such as Teenage Hoops (an annual basketball tournament); led to regular sports and wellbeing activities; trained and developed local youth workers and sports coaches; improved partnership working between voluntary and community groups; engaged local businesses; has been an amazing engagement tool for some of the talented and driven young people that have come through SkyWay's programmes; and helped the wider community to express its strength and pride.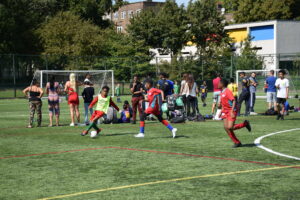 Teenage Kicks led to James and Grant joining the board of SKY Partnership. While James stepped down a few year later Grant remained and became Chair in 2006, a position he still holds. He has been instrumental in SkyWay Charity's development over 20 years. We would like to take this opportunity to say "thank you" for everything you've done!
We would also like to thank all the people who have made Teenage Kicks a success over the years including: James, all the organisers, volunteers, supporters, funders, players, parents, carers, and partner organisations. Now let's make Teenage Kicks 2022 one to remember!