---
The lockdown due to the pandemic meant it'd been over a year since anyone had played with me! I was isolating, needing a bit of a clean and ideally needed some new clothes – over time the cloth I wore had scuffed up, I had stains from people spilling drinks on me, and I'd lost a bit of my bounce. Sometimes what you need is a change of scenery to alter your perspective.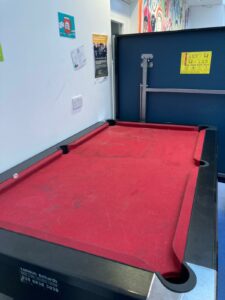 I can't really complain. I was much loved and treated really well at Hackney Quest but like in many situations things change and you have to adapt and go with it. Fortunately for me, the change came at just the right time. SkyWay and Hackney Quest have a great relationship and do some brilliant work together. When Quest heard that SkyWay had finally been forced to retire my predecessor they thought I'd be the ideal replacement.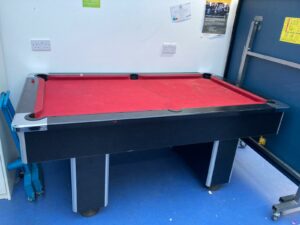 I admit I was looking a bit tired but underneath it all, I was solid and looking forward to a new adventure. Marlon came to see me and we got on great. We arranged a moving day and he came and got me with another couple of people – I'm pretty heavy – and after a bit of a bumpy van ride, we got to the Blue Hut. I got introduced to my new colleagues and we got on like we'd known each other forever. ATTENTION!
Our mate Triangle is missing at the moment but has been known to hide under things so I'm sure they'll turn up.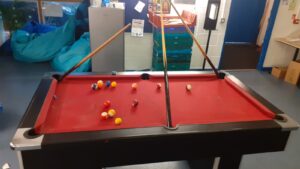 Because lockdown was being eased and people were starting to come to the Blue Hut again I wanted to get spruced up and looking my best. I've got my own distinct style and I decided to go all out and get a purple felt suit made, keeping the red trim I had before. Now I feel the part and know I belong here. All the young people have been really nice and I've got lots of people to play with again.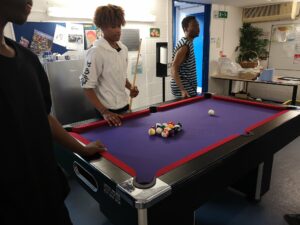 I miss my friends from Hackney Quest but I'm pleased to be making a lot of new friends at the Blue Hut. There's gym equipment I'm looking forward to using, a music studio where I'd like to lay down a track or two – not since Chas and Dave did Snooker Loopy in 1986 has anything been done – and the main room where I stay which also has a table tennis table, a PS4, and table football. It's a right laugh and everyone is made to feel welcome!