---
Joshua Sokoya is the Managing Director of Custom Crep City UK, and the newest addition to SkyWay's board of trustees. Joshua took part in SkyWay's youth and mentoring programmes, running a tuck shop and learning the value of skills such as stock management and sales techniques. Today, Joshua is an entrepreneurial success story, a fantastic role model for young people, as well as a great example of the skills development which SkyWay offers through its programmes.
Joshua's Story
Joshua grew up in Islington – North London. He attended St John's the Baptist Primary School – just around the corner from the Blue Hut Youth & Community Hub. Joshua then went on to study GCSE's at St Aloysius School (in the same borough), followed by Business & IT at LaSWAP. Joshua's siblings had attended the Blue Hut and his older brother worked there, so from a young age, he was familiar with the venue, staff and SkyWay.
It was when Joshua was 8 years old that he became a regular at the centre, attending drama classes and taking part in bike restoration projects. As the years went by, Joshua went on to join SkyWay's peer program, where he learned valuable skills including money management and goal setting. However, it was his role as the Tuck Shop Manager at the Blue Hut which taught him the invaluable business skills he would go on to use in the future such as listening skills, learning to stock products relevant to his customer base, marketing skills, stock-management, financial control and sales techniques; skills which prepared him for the running of – and success – of his own business.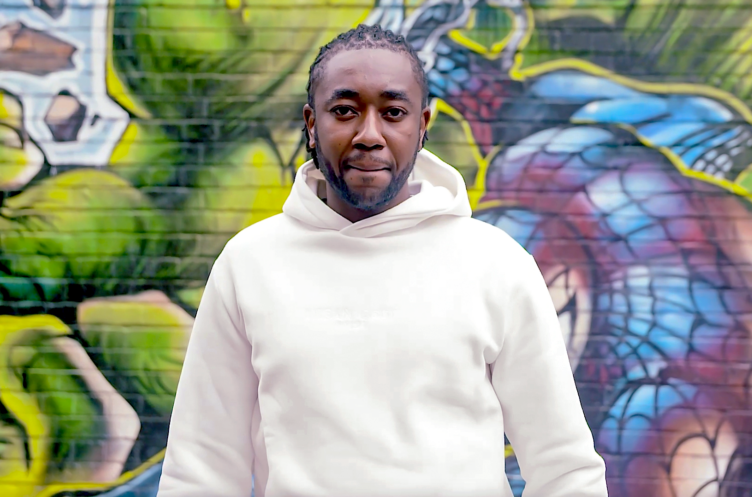 Joshua – 25 – is now a successful businessman
How the business started
As with many business, Joshua's started with a partnership; for Joshua that partner was Santiago Arango.
A fellow Islington resident, Santiago was working as an artist when Joshua came across some trainers which he had recently customised for fun. Joshua's business acumen kicked in and he suggested they start a business together. They then set up shop and started to post their creations on Instagram. Starting with just one design, they had a lucky strike when a well-known fashion blogger showed interest in their trainers and subsequently posted an image of the pair they'd customised to her 800k followers; almost overnight their IG followers increased by almost 4k leading to them receiving 20 orders in just one day.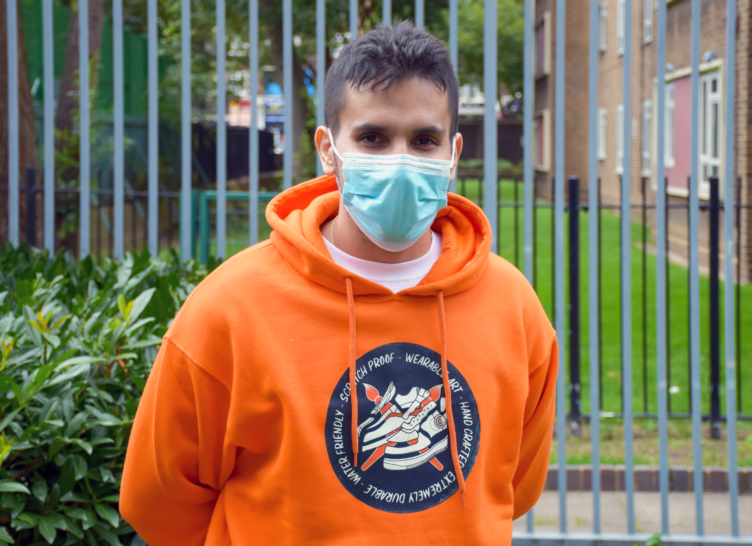 Santiago standing outside the Blue Hut Youth & Community Centre during a workshop that he and Joshua run with our 15+ group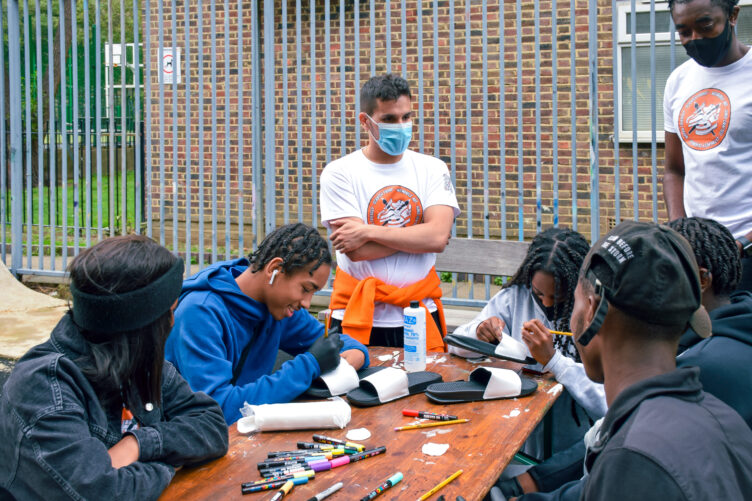 Joshua and Santiago teaching our young people how to customise sliders in that same workshop
Growing pains
It would have seemed things were going smoothly, but soon the complaints started coming in. Once customers received their order, Joshua and Santiago started receiving messages from disgruntled customers explaining that the paint had started to fall off. They demanded refunds on their trainers and Joshua had to quickly learn to become an expert in customer service. Yet, instead of calling it quits Joshua realised that for the business to succeed they had to do it properly. They stopped purchasing cheap paints from Amazon, took the time to research and understand the industrial processes involved in improving the product and all round service, and set about learning the business from the ground up.
THE FINISH LINE
Thankfully, after much hard work and many sleepless nights, Joshua was able to fix the issues. Those disgruntled customers received quality replacements and following the initial hiccup Custom Crep City UK has gone from strength to strength. Presently, Joshua is looking to grow his team and hire additional artists. He's also set up his website and online store for customers to place their orders.
Transforming the business from a part-time hobby into a sustainable, profitable enterprise is in no small part down to those skills that Joshua picked up during his time with SkyWay.
As Joshua says:
"My time at the Blue Hut provided me with the training ground I needed to manage the ups and downs of business life. Who'd have predicted that bike restoration, graffiti and working in a tuck shop would lead me to running my own business!"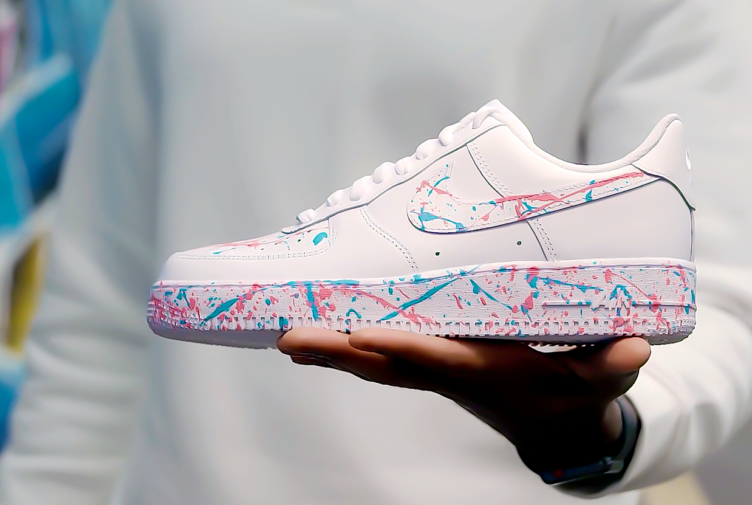 One of Custom Crep City's custom-trainer designs
A MeSSAGE FROM JOSHUA
Where to find Custom Crep City UK
For any enquiries, or if you fancy some of Joshua's custom trainers you can contact him and his team via: