---
Welcome to the first in a series of Blue Hut produced cooking vlogs
We thought we'd kick off with our very own Come Dine With Me episodes. For three weeks we've been planning, filming, cooking and editing to create two Come Dine With Me episodes. The young people created a menu, budgeted and bought ingredients, then cooked a main course and dessert for the opposing team to judge.
Our Blue Hut chefs have recently excelled at leading in the kitchen, and require little assistance in preparing and cooking food.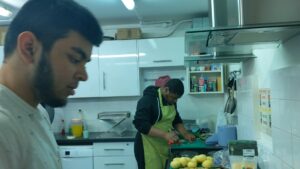 Before the day of cooking, one of the team members from 'Team Failure' wrote out an extensive recipe for the jerk chicken and homemade brownies. He wanted to share it so here it is!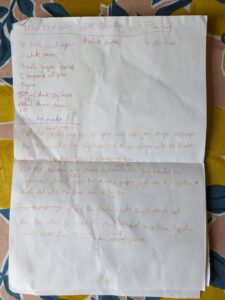 Jerk Chicken with Plantain
Ingredients:
A whole chicken (approx 1.2kg)
4 Scotch bonnet peppers
2 large onions
Thumb sized piece of ginger (peeled)
2 tsp allspice
100ml light soy sauce
100ml thyme vinegar
4 plantains
Method:
Put the onions, peppers, ginger, allspice, soy sauce and thyme vinegar into a blender and blend
Cut the chicken into pieces and coat with the marinade
Marinade for up to 12 hours
Put it into a preheated oven on 180-200 C for 45-60 minutes
Slice the plantain into chunks and fry in oil until golden and caramelised
Serve and enjoy!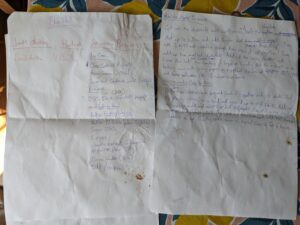 Brownies
Ingredients:
250g dark chocolate
250g unsalted butter
250g sugar
2 large eggs
Drop vanilla extract
100g plain flour
30g cocoa powder
Pinch of salt
Method:
Break chocolate into small pieces and melt with the butter in a bain-marie (use a glass or ceramic mixing bowl over boiling water)
Whisk eggs then add sugar, vanilla extract and the melted chocolate and butter
Mix cocoa, salt and flour together
Mix the dry and wet ingredients together and put in a baking tray with parchment paper
Put into a preheated oven at 180 C for 20-25 minutes
Serve with vanilla ice cream
We filmed short reaction videos from the opposing team – like those in the original show – where the young people first spoke about the menu, then discussed the food after eating it. Some harsh words were said to be sure! The young people edited these videos alongside some pictures and music to create short Come Dine With Me episodes, one of which is here:
Last week we sat down together and enjoyed a homemade chicken curry and watched the episodes back.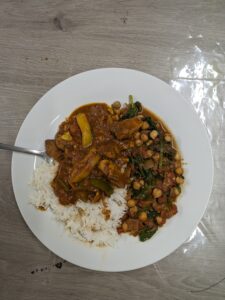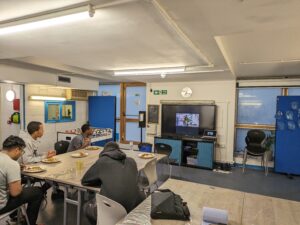 The young people should be incredibly proud of themselves for not only this recent creative project, but the whole cooking programme that started in September last year. The process of cooking as a team has meant they have progressed in their interpersonal skills, confidence and motivation to try new things.