---
What an eventful summer! While the weather may not have been great, our jam packed schedule of trips, visits and sessions made for a very memorable experience for our young people.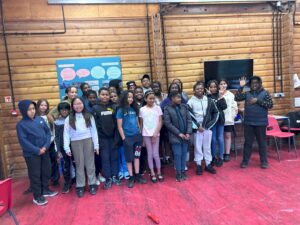 Week 1
We kicked off the first week with a big younger's trip to Rowan's where we went bowling and then on to Nandos to celebrate the end of term, and for many of our young people, the end of primary school! 
For our first Mini's trip we went to the cinema to watch Elemental, which was a massive hit with both young people and staff alike. 
That same evening we took the olders from our 15+ cooking club, to Diyarkabir Kitchen on Green Lanes to try out a new cuisine, Turkish. Many of the young people had not tried authentic Turkish food before, other than Doner kebabs. It's safe to say that they all enjoyed most of the meal, even those who are inclined to be a bit more picky. We were impressed to see each young person really go out of their comfort zone and try new things.
Laburnum Boat Club hosted our younger's for a very wet but very special kayaking session. The rain was torrential but that seemed to add to the atmosphere on the canal and staff were surprised by how much the group loved being out on the water, even in those conditions.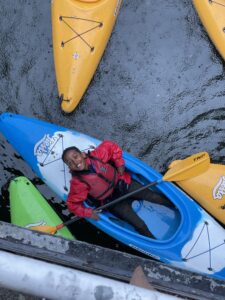 Our Year 6 transition group made the journey down to Lea Valley ice rink where the young people had to work together to stay up right on the ice. Although we did have some falls, staff were inspired to see the 'almost year 7's' support one another and encourage each other throughout the session.
Friday saw the first of our summer 'create and make' deliveries. These boxes were given to us by the Mayor's Fund for London and contained loads of amazing and useful household essentials for families struggling with the cost of living crisis. It is an honour to be able to serve our community and offer real practical support for our local families.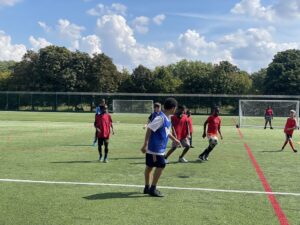 Week 2: The Residential
Everyone at SkyWay, young people and staff, had been particularly excited about this one.
We teamed up with our local partners Hackney Quest and together took 25 young people to Hindleap Warren outdoor center for 3 days and 2 nights. This gave our young people from the Blue Hut a chance to meet lots of new, local friends from Hackney Quest, and together they embarked on a series of incredible adventure activities. 
First and foremost was the night walk, there were a lot of screams as we ventured through the dark grounds surrounding the house. We discovered lots of wildlife that we don't normally see in Hackney; frogs jumped across our paths and we could hear owls overhead. The next day the real high octane activities began. We did archery, crate stacking, zip wiring, the assault course around the lower pentagon, high ropes and finished it all off with the leap of faith! So many young people faced their fears and pushed themselves to try out the sometimes daunting experiences. For many of our young people this was their first time staying away from home which is a big deal for both them and their families. All of our young people really rose to the challenge and learnt so much from experience. Staff left the residential feeling so proud of them all.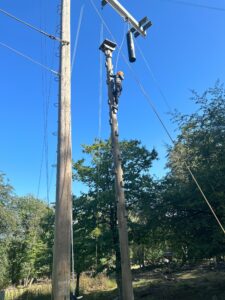 Week 3
Back at Blue Hut with bang, we took our youngers and our olders on a group trip to Thorpe Park. There really was something for everyone. Some of our 9 year olds were loving the huge rides and wanted to go on the biggest ones the height restrictions allowed them to! Our olders got lucky with the queues and were able to get onto stealth with only 10 minutes of queuing. Some staff struggled to keep up though and there were a lot of sore necks the next day at The Blue Hut!
The arts and crafts project this week for our mini's session was brought to us by local artist, Diddy. She dropped us off lots of cool materials and the young people created self-portraits on fabric. These will be sewn together and displayed at a community exhibition in Hackney. We can't wait to see the finished results! Later that day our olders made lamb curry in their cooking club and it was delicious.
Next we had a joint sports day with Hackney Quest in Haggerston Park. This was a lovely opportunity for all of the young people who went on the residential to see each other again. There were street dance lessons run by Diverse Voices and Outrunners ran some fantastic games.  We had football in the cage and we played tennis powered by the LTA serves programme.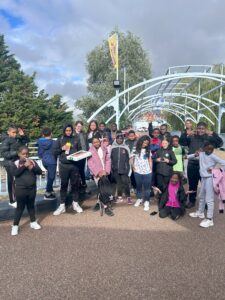 We took our Year 6 transition group to Laburnum Boat Club. This time was much less rainy and the young people could cool off after the session by jumping into the canal!
We rounded off the week by hosting the annual football tournament Teenage Kicks at the Blue Hut. Young people from all over north and east London came to compete in the competition. Congratulations to Shoreditch FC who took home the trophy!
Week 4
We started the final week of our summer holiday programme with a street art and sports session. We played tennis on the pitch and then the young people each got a canvas to decorate with spray paint. We had stencils and pens so they could add details to their designs.
Next we had a full day of cooking as our mini's made and decorated cakes in their afternoon session then our olders cooking club took over the kitchen in the evening. 
Then we took the Year 6 transition group to Laser Tag where everyone's competitive side came out – including staff!
To round off the summer programme we had our annual SkyWay end of summer BBQ. We served chicken, coleslaw and salad to the community along with 2 different flavours of bubble tea. There was something for everyone with a bouncy castle, football, darts as well as arts and crafts and glitter tattoos. Over 200 people came through and it was fantastic to celebrate a fantastic summer programme with the community.