---
We had a jam-packed and fun-filled summer with a range of activities for 6-9-year-olds, 10-14-year-olds and 15+'s. From creative activities to sports and community days, there was something for everyone, with exceptionally high numbers across ages 6-14. Although we had a lower turnout across our 15+'s, we were overjoyed to see some of our long-standing members move into further education and the workplace this year, going into sectors such as retail, business, events and film. It was a scorcher of a summer with the heatwave across London, so we had lots of water on hand to keep everybody hydrated and safe. We provided meals every day of the holidays for all of our young people and once again were able to provide a free service for all of our members.

Week 1
MARBLE INK PRINTING & Multisports
We started the summer with a marble ink printing session which saw our 8-14s get hands-on with ink, watercolour paper and their imagination and creativity. With gloves at the ready, they mixed different colour inks and dipped a variety of dinosaur silhouettes to create swirls of shiny patterns. This was a feast for the eyes to behold and a great opportunity for them to practice 'name that dinosaur' and take ownership over the design and look of their print. With the sessions being a long four hours, we split them in two, and during the second half of our first day went out onto our games pitch for a mixture of sports, including dodgeball, football, rounders and different racket games.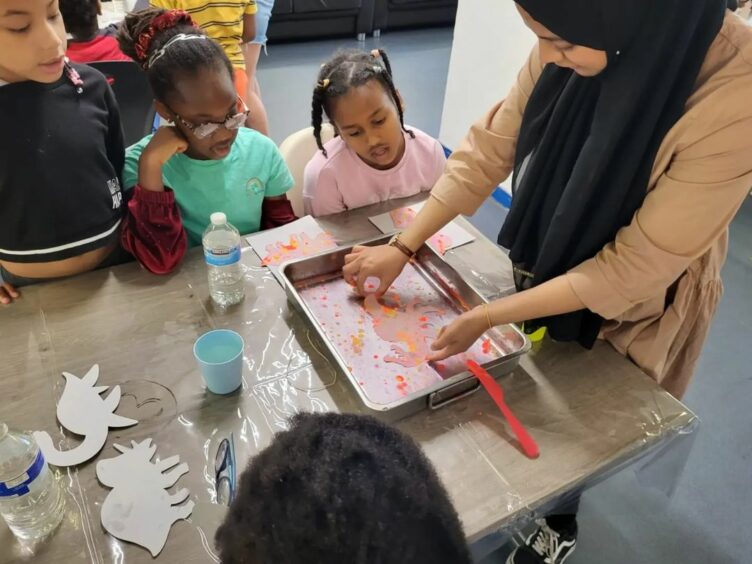 The dinosaur silhouette had to be dipped into ink to complete the transfer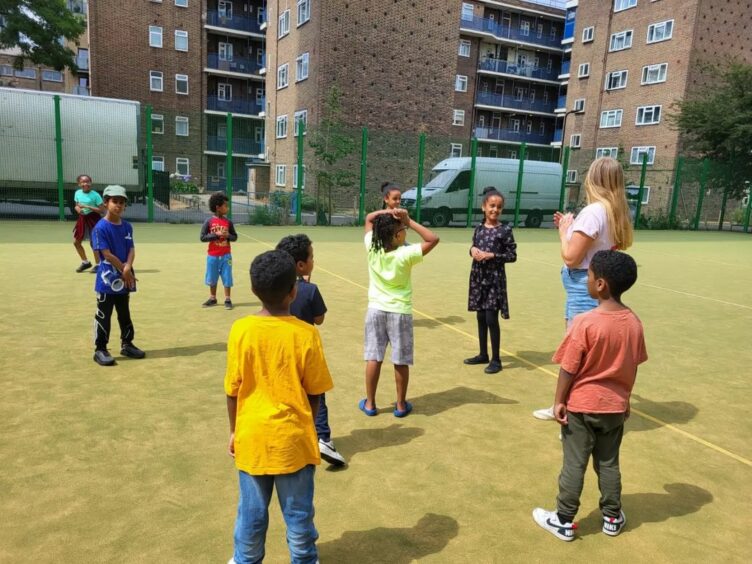 We played some games and sports on the multisports pitch outside the Blue Hut
Sports Day with Hackney Quest, The Outrunners & Frampton park baptist church
We took our 6-8's to Shoreditch park for our joint sports day with Hackney Quest, The Outrunners & Frampton Park Baptist Church. It was a fantastic day with a mixture of physical activities, including dance, drumming, football and running. Lunchtime provided some delicious Jollof rice, plantain and a side salad. After lunch, there was more running, dancing, football and drumming. At the end of an eventful day, there were prizes for the winners of The Outrunner's running games and some biscuits and snacks for our young people to take home.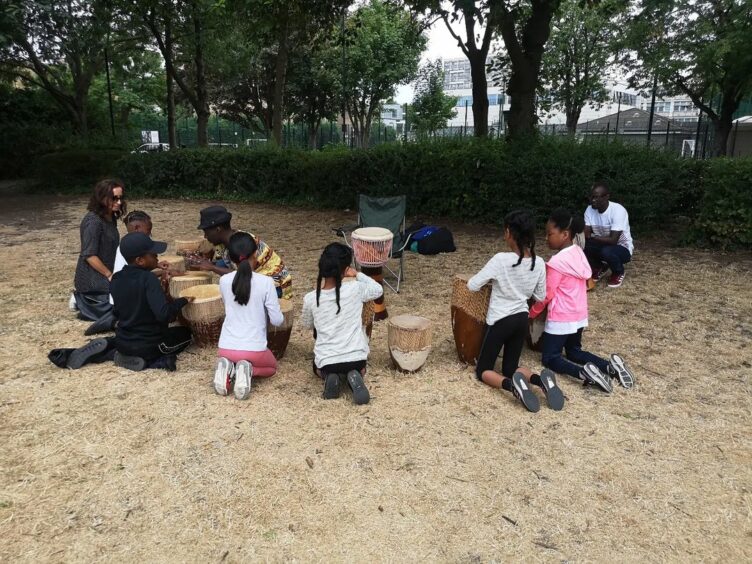 African drumming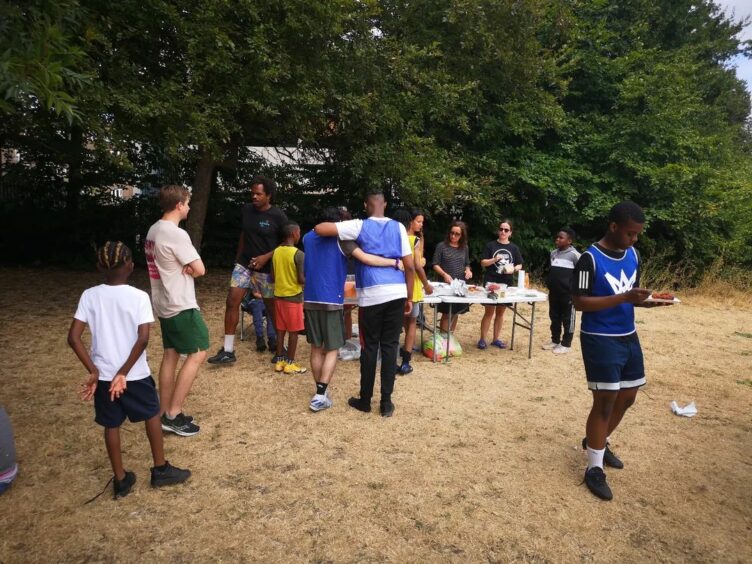 Jollof, chicken and salad for lunch
Running games with The Outrunners
Hula Hoop Weaving
Our young people got creative, weaving coloured threads together to make patterned wheels out of hula hoops. We made it a little competition for motivation and had some outstanding final designs by our 8-14s.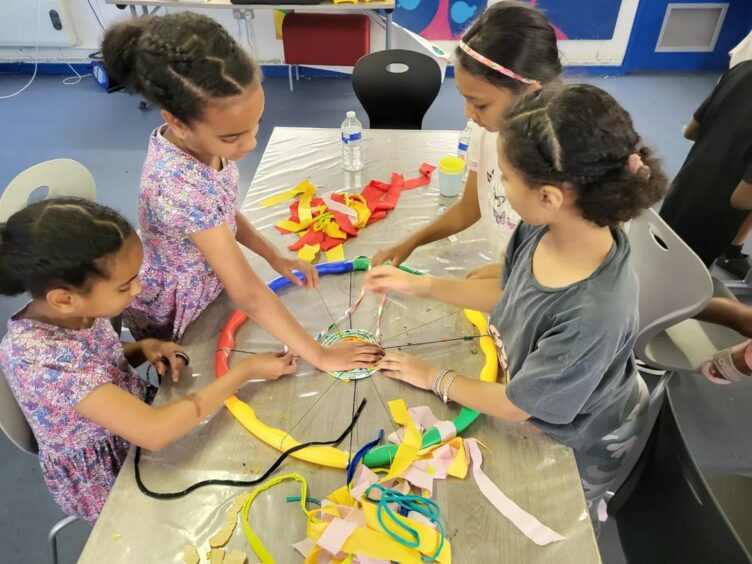 Hula hoop weaving with our 8-14's
animation club
For the six weeks leading up to the summer holidays, we partnered with London Youth and Chocolate films to run a series of animation workshops with our 8-14's group. Over that time, they worked on creating artistic stop-motion films. We ran a double four-hour session for our young people to complete their films in preparation for an exhibition at the Bishopsgate Institute. This would be the first time many of our young people would be showcasing their work in front of a stage, so it was a really exciting moment, and we were thrilled to be there to guide them through such a landmark occasion.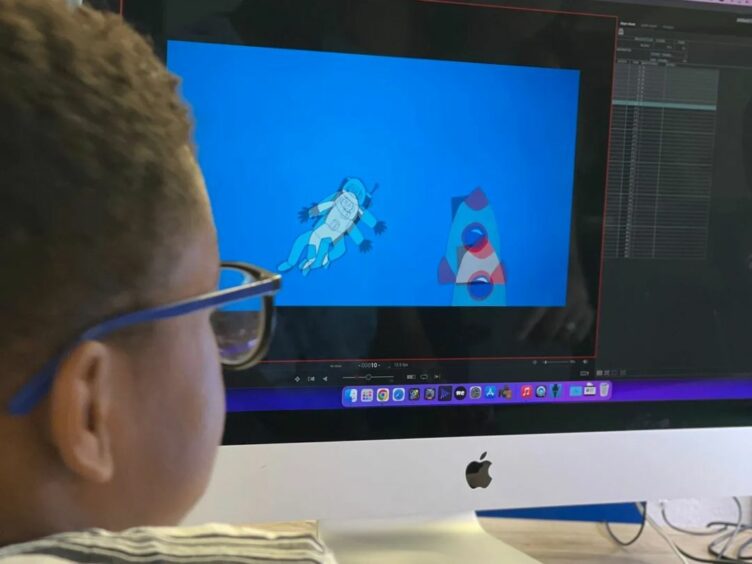 We had astronauts and space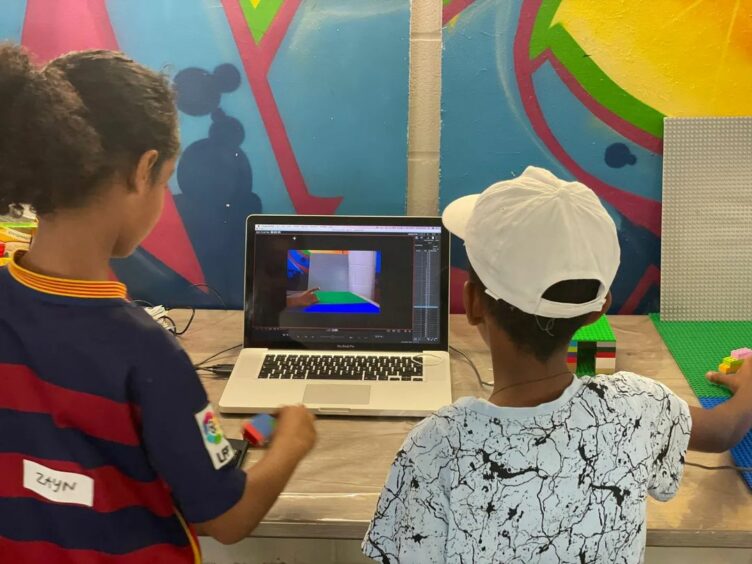 And a Lego stop motion animation
Week 2
Cooking with Shoreditch trust at the Waterhouse
Throughout week 2, we partnered with Shoreditch Trust and The Waterhouse Restaurant for their young chefs' programme. We had three young people learning to make Jamaican patties, ice cream, victoria sponges, and lots more. In the next few months, they will have the opportunity to receive further training beginning the second half of September, allowing them the future opportunity for an entry role in the food and catering industry.

Cooking the mince, spices and onions for the patties
Indoor Cinema
The heat was starting to pick up at the start of week 2, so we stayed cool by watching a film inside the Blue Hut, making sure that our air conditioning was on. We watched Spiderman 3 for a while until our young people said they would rather be outside, so we went out and did some sports on the M.U.G.A.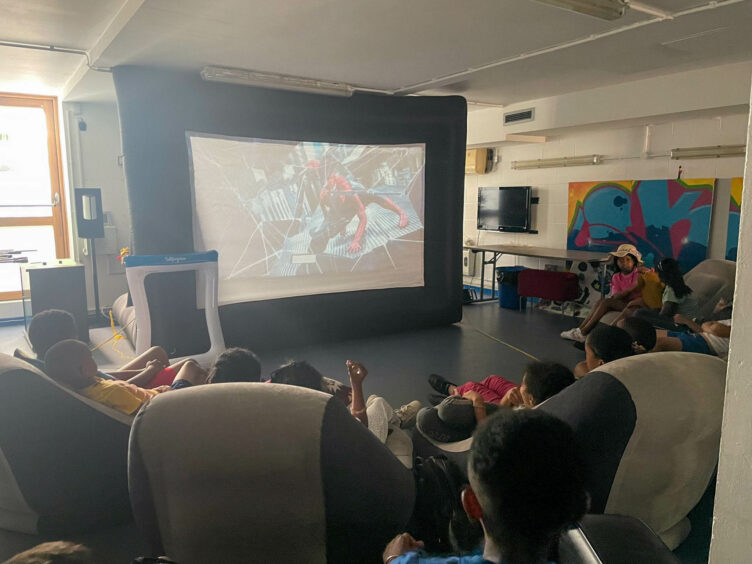 Spiderman 3 at the indoor cinema screen inside the Blue Hut
Design your jigsaw
There was more painting to do for day three as our young people made jigsaw puzzles. Once finished, they aired out and dried, and they were able to be taken home. We're sure their parents and siblings will have had a tough time figuring out how to solve them.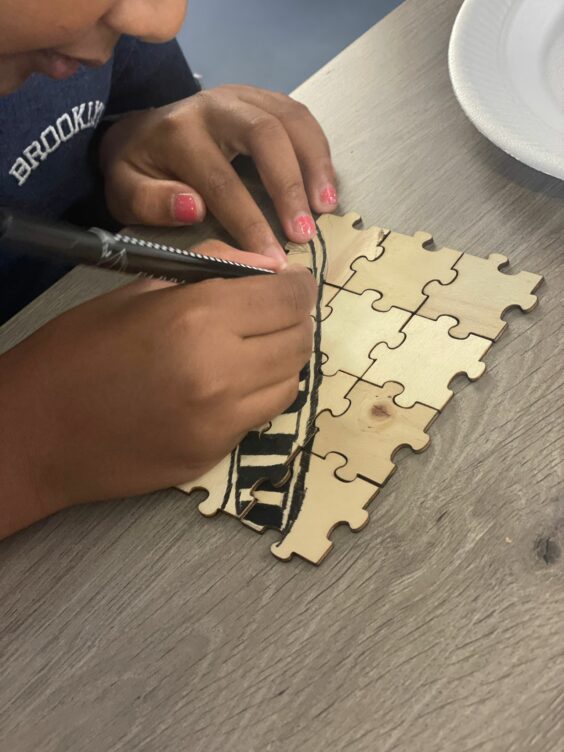 We had lots of different puzzle designs, from cars to the sky and clouds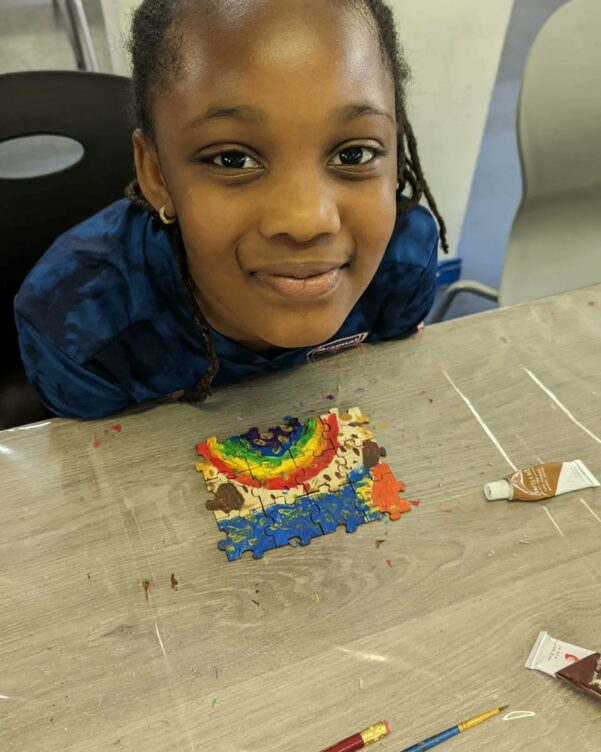 And this fantastic rainbow
Glass Art
Moving on from jigsaws to glass art, which our young people had done before and loved, we printed the designs that they wanted to use, then traced over them to get down the outlines for the paint. Once the designs were down with a pencil, they then went over them with an ink pen and coloured in their designs. We had some imaginative colour schemes, and our young people deserved praise for how they all came out. Job well done.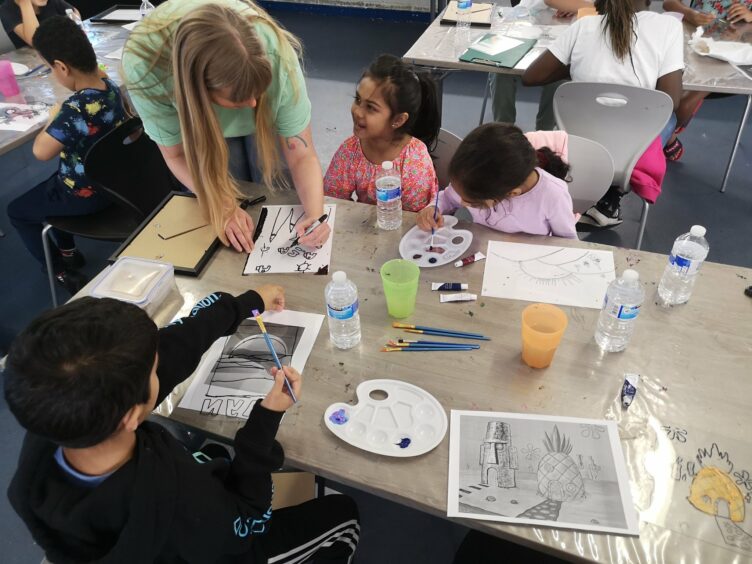 We started by outlining the designs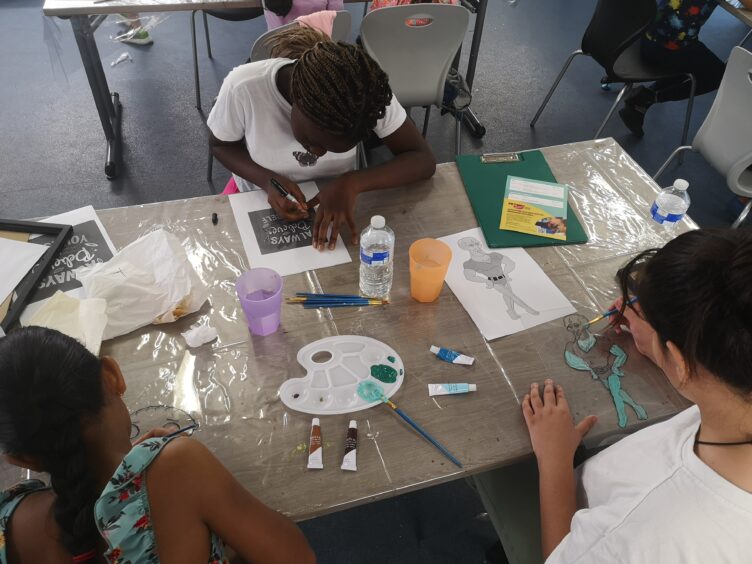 Once they were down, it was time for the paint to go on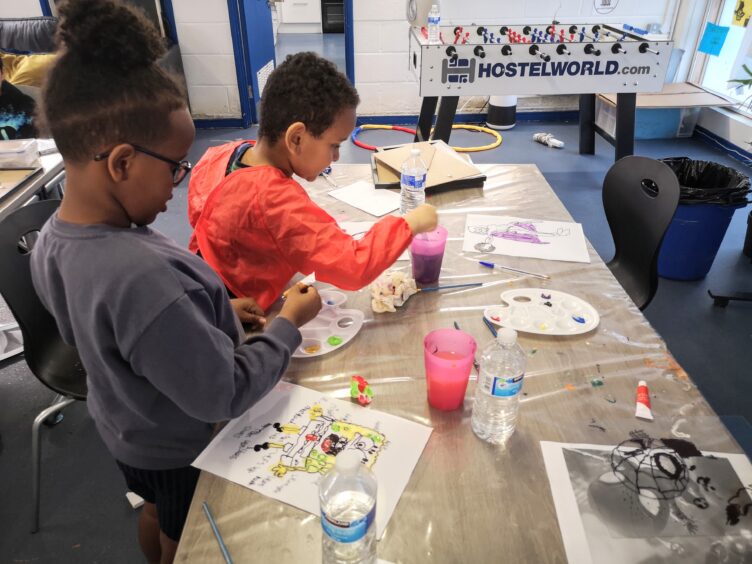 Getting the paint down
We saw some amazing pieces by the end of it and are super proud of our young people
Week 3
Clay modelling
For week 3, we had a clay modelling workshop where our young people made pottery and got their hands stuck in the mud – literally. Our young people had a great time making pots and plates and seeing how they could make something out of raw materials. Once they were finished with their pottery, they went into the oven to harden. Here's to hoping that we may have inspired some future DIYers and sculptures.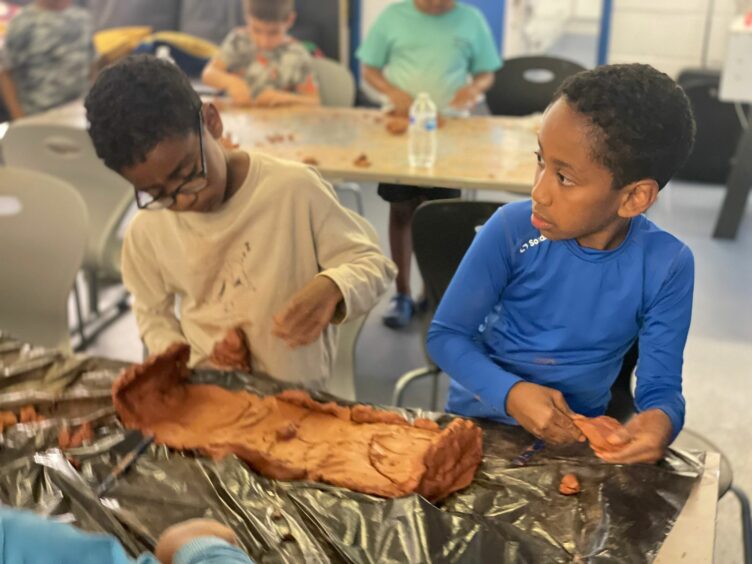 Here the young people were sculpting a tray
London Youth Animation Club Exhibition
On day 2 of week 3, we went to the Bishopsgate Institute for London Youth's Animation Club Exhibition. There were nervous shuffles and shaky voices, which was to be expected of our 8-14s, but all in all, it was a fantastic learning experience for our young people in public speaking and presenting themselves in front of a crowd. We couldn't have been more proud of them for the courage, bravery and resilience that they showed. They earned a good round of applause after the montage of their stop motion films was showcased.
To read more about our animation club with Chocolate Films and London Youth, check out our news story on it:
D.I.C.E's Bringing Us Back Community Day
It was time for our community event, D.I.C.E.'s Bringing Us Back. Heavy rain was forecast, but everybody got there early in the morning to get the decorations and the BBQ going. We had to shelter in the Blue Hut while it stormed outside for part of the event, but that didn't bring anybody down as a day with face painting, dance and limbo, rap, spoken word poetry, food, and snacks for everybody got going. There was a fantastic atmosphere, and we were thrilled to see lots of familiar faces and many of our young people's parents turn up for the event. We hope they enjoyed it as much as we enjoyed putting it on, and want to say a massive thank you to D.I.C.E for the work they put into organising the day.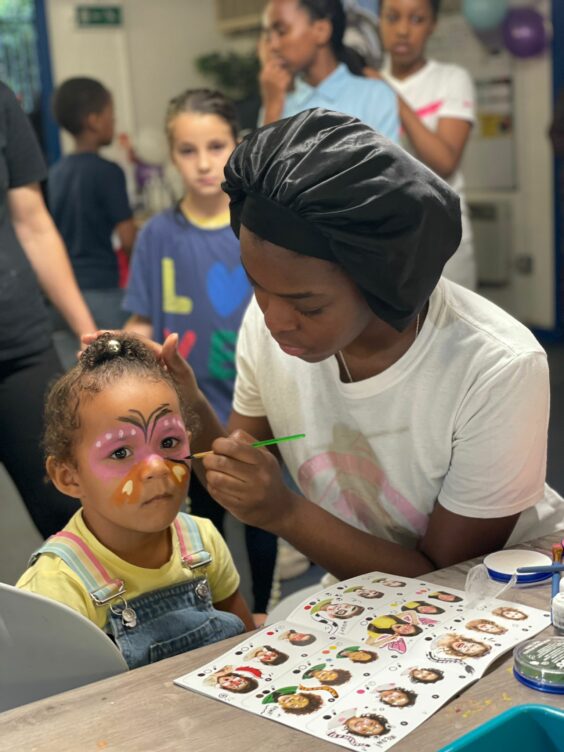 A great day that had face painting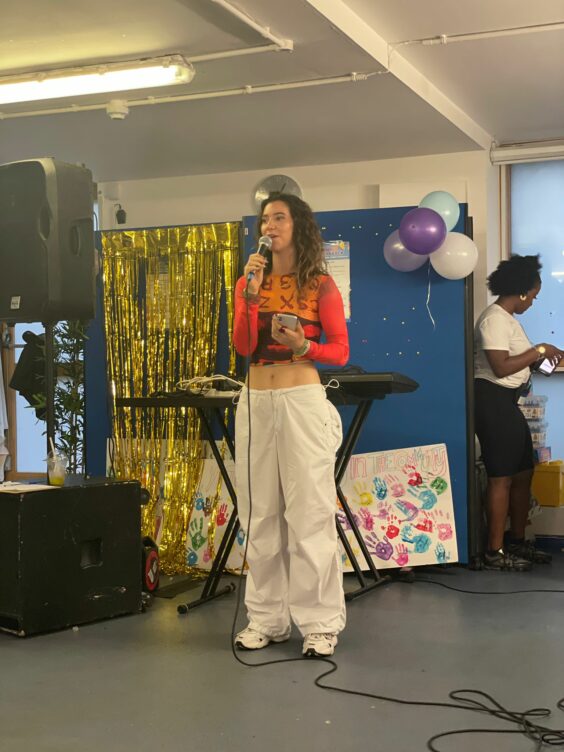 And live spoken word and hip hop performances
Graffiti Art Workshop
We set up outside of the Blue Hut Youth & Community Hub for a graffiti workshop which saw 20 young people take part and leave their tags on the gates outside of the hub. We had a range of designs, from a happy graffiti tag to an oreo one and one paying homage to the Blue Hut, which was humbling to see. We were lucky that this time the weather for it to be possible to run.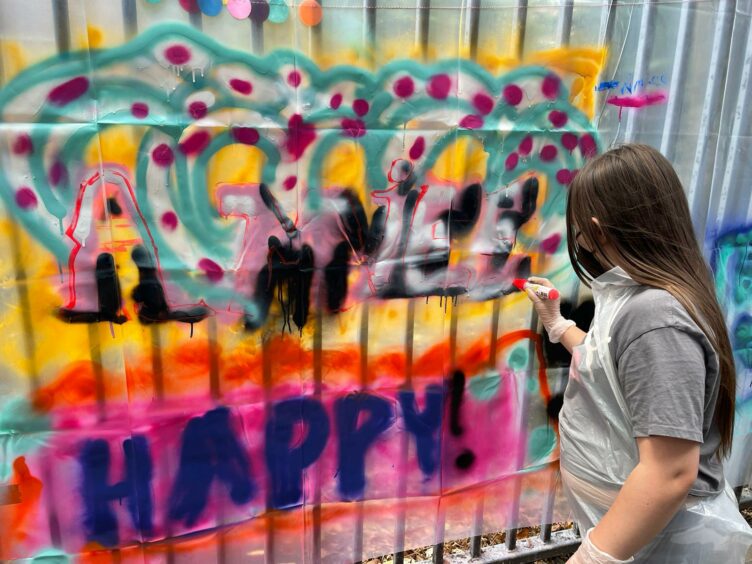 Angel made a tag with the word happy under her name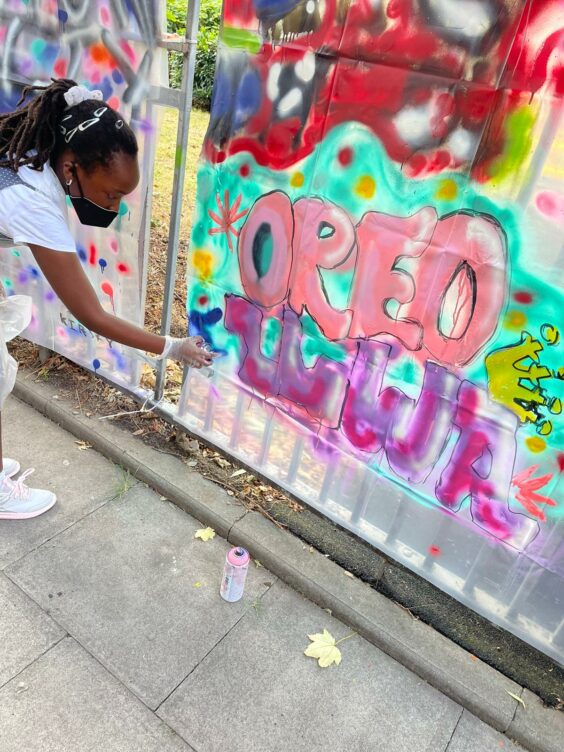 We had an oreo tag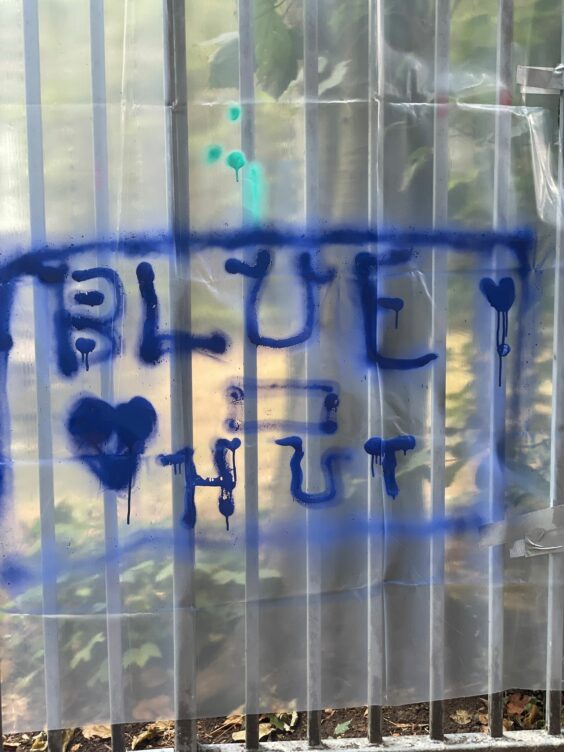 And an unexpected but welcome Blue Hut tag with a love heart
Week 4
Painting by numbers
Week 4 started with a painting by numbers session. Our young people joined the dots to create art, including a tiger face, wolf and bear. With all of the different available colours, they were able to explore colour and come up with a design that was unique to them.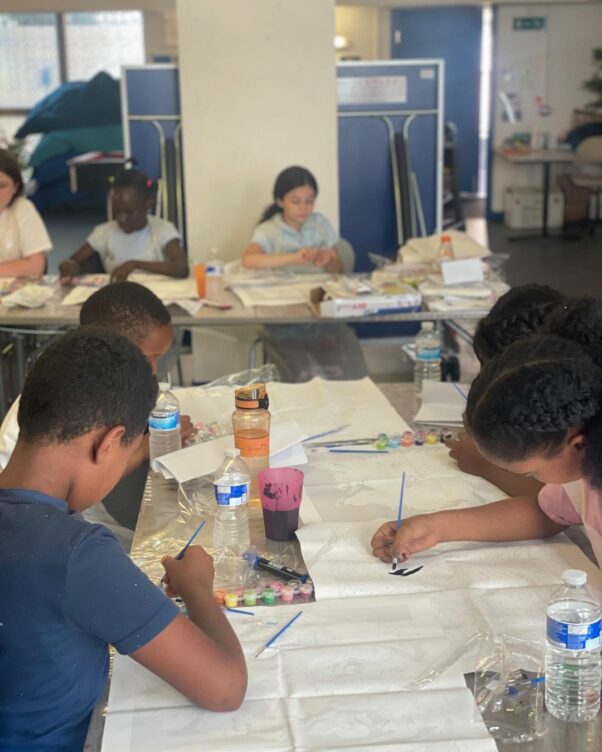 Concentrating on a painting by numbers activity
Social Action Banner Workshop
For day 2, we discussed important social causes that young people believed are important and designed banners to support those causes. There were banners for LGBTQ rights, the traveller community, global warming, the war in Ethiopia, mental health, sickle cell, gender equality and more. We've put up the banner at the Blue Hut as a reminder of the things that matter to our young people and us.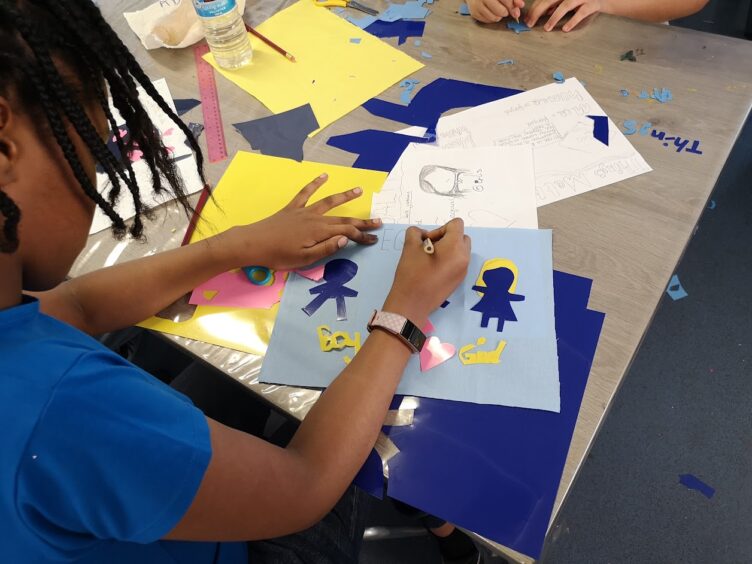 Gender equality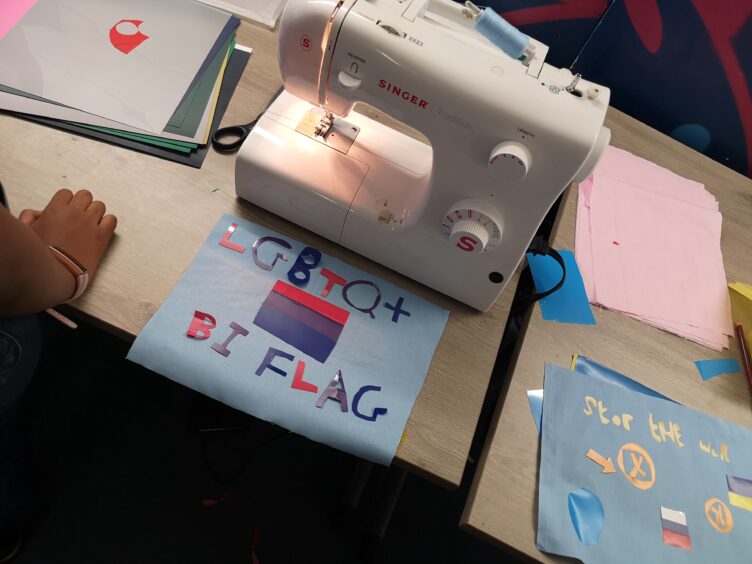 LGBTQ+ Bi Flag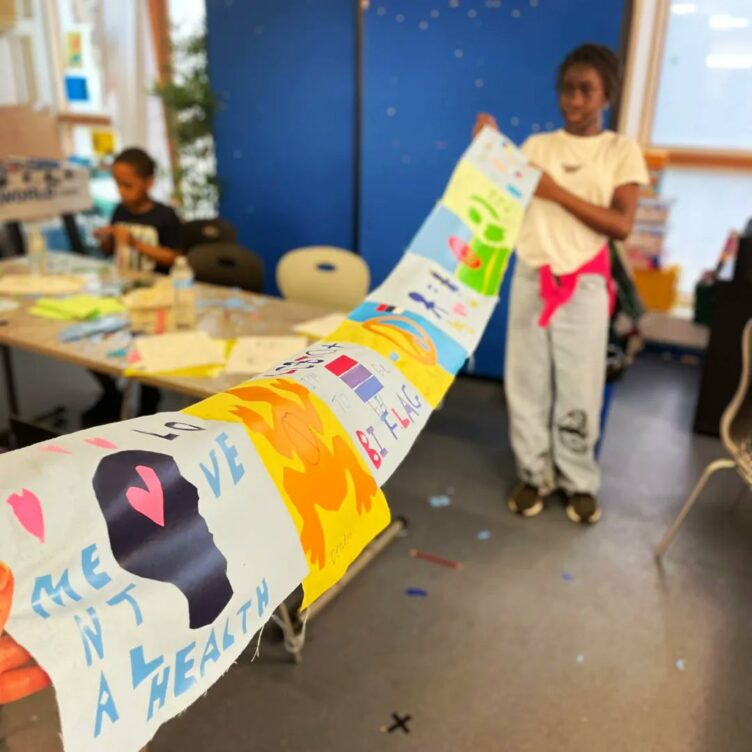 All of the things that matter to our young people are now up at the Blue Hut
Hackney City Farm Trip
We went to Hackney City Farm, where our minis group were shown around the farm and introduced to roosters, chickens, goats, donkeys, horses and piglets. After the farm, we had some lunch in the park and then headed to the playground to enjoy the day and have fun on the swings, seesaw and climbing frames.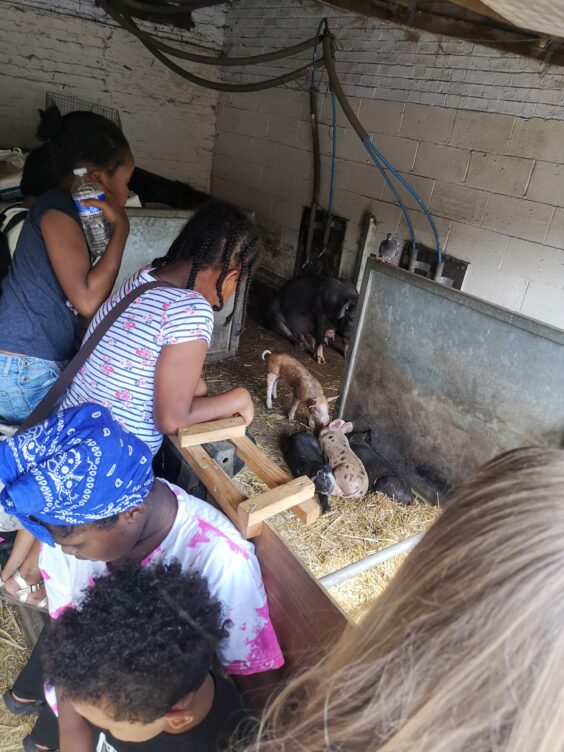 Our minis group got to see Piglets at Hackney City Farm
Make Your OWN Sundae workshop
It was the last day of summer, and what better way to end a summer programme than with ice cream? After the weather forecast showed storms and heavy rain, we changed our trip to the ice cream festival in Covent Garden to a Make Your Sundae Workshop at the Blue Hut. There was mint choc chip, vanilla, triple chocolate, strawberry ice cream and toppings, which included peanut butter drops. white chocolate chips. sprinkles, marshmallows and whipped cream. Our young people organised the day with different stations for handing the ice cream and toppings and then designed their sundaes. At the end of the session, we had a competition for the best sundae design and then some sports out on the M.U.G.A.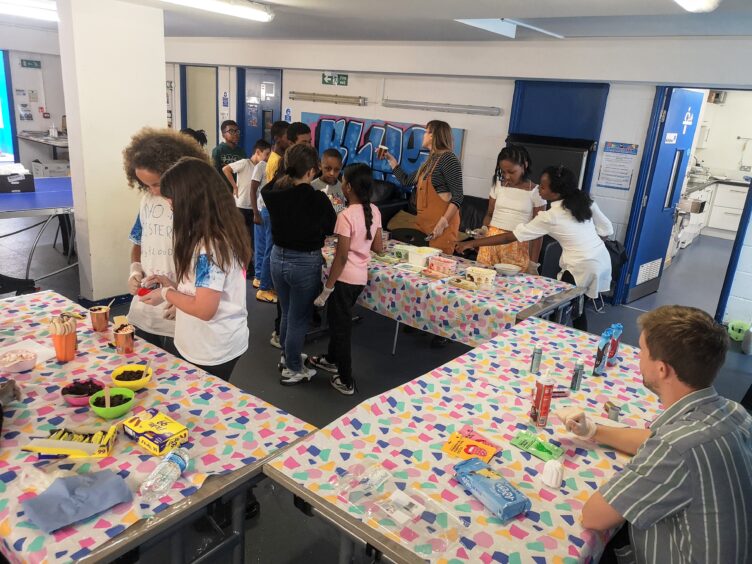 We had three ice cream stations for ice cream, whipped cream and sauces and toppings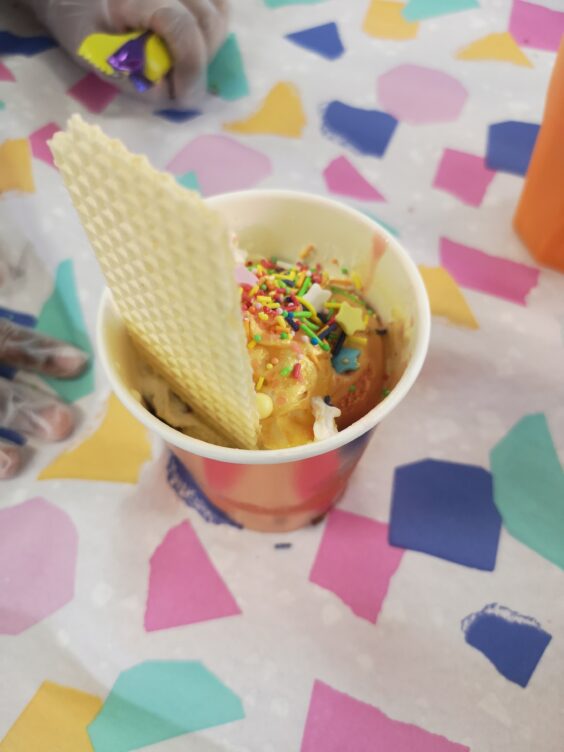 One of our young people's sundaes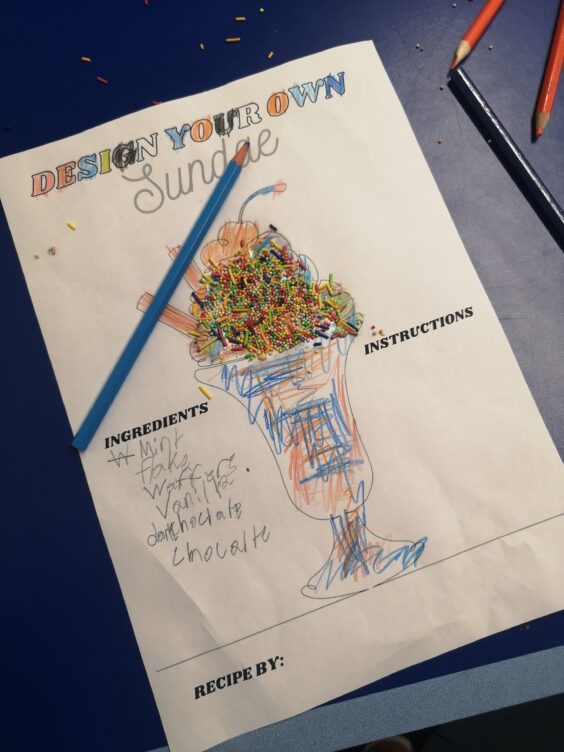 One of the 'Design Your Own Sundae' designs
As always, summer is a special period where we get to come together with all of the young people and the community with so many activities and events running. We're glad to have been able to support everybody and hope that they enjoyed everything that we had on. Until the next one.